If you've tried regular bath bombs and want to send your relaxation to the next level, take a look below to learn how to make THC bath bombs and for our guide to finding the best THC and CBD bath products for this holiday season.
What is a bath bomb?
Bath bombs are single-use, circular blends of skin-softening extracts and essential oils you can throw in the bathtub before getting in. The main ingredients are sodium bicarbonate and citric acid, which interact when dissolved in water to create the fizzing sensation that gives it the name "bath bomb."
Once the bath bomb is tossed into the water and a reaction occurs, it dissolves and breaks apart, releasing fantastic aroma and skin-softening benefits.
Bath Bomb Benefits
Using a bath bomb allows you a few minutes of alone time and mindfulness to enhance your mood and reflect on the day. Choosing an aroma and ingredients that will offer relaxation, pleasant fragrances, and skin healing benefits is essential. For example, select bath bomb ingredients with refreshing eucalyptus for muscle pain relief or a scent of French lavender for a calming, anti-stress experience.
Once dissolved, bath bombs release citric acid that fizzes and helps loosen old or damaged skin. The oils in bath bombs are typically moisturizing, so these hydrating effects can leave your skin feeling soft and healthy after soaking for a while.
Beyond the bath bomb benefits, soaking the body in a warm bath for fifteen or twenty minutes can help you decompress and soothe sore muscles and tension.
Sodium bicarbonate is the primary ingredient in bath bombs and is high in alkaline levels known to remove toxins. The common name for sodium bicarbonate is baking soda, known for its detoxing, antifungal, and antibacterial properties.
How to Use a Bath Bomb
Follow the steps provided below to ensure you are getting the most out of your bath bomb experience:
Start by organizing and decluttering your bathroom space. Light a few candles, dim the lights, grab a glass of wine or a joint, and find a chill playlist.
To ensure you are comfortable after the bath, prepare fresh, warm towels, a clean rug, and your favorite robe/slippers.
Fill your bathtub with warm water, then unwrap and drop the bath bomb in your tub to see the immediate fizzy effects begin. As it soaks in the water, the bath bomb will begin to break apart, releasing the essential oils and fragrance.
We recommend soaking in the bath for around twenty minutes to receive the full health benefits. Once finished, it's vital to rinse out the tub so that it's not slippery and grimy for your next shower or bath.
How to Make Bath Bombs
Here is an effective and easy-to-use bath bomb recipe so you can try making them at home.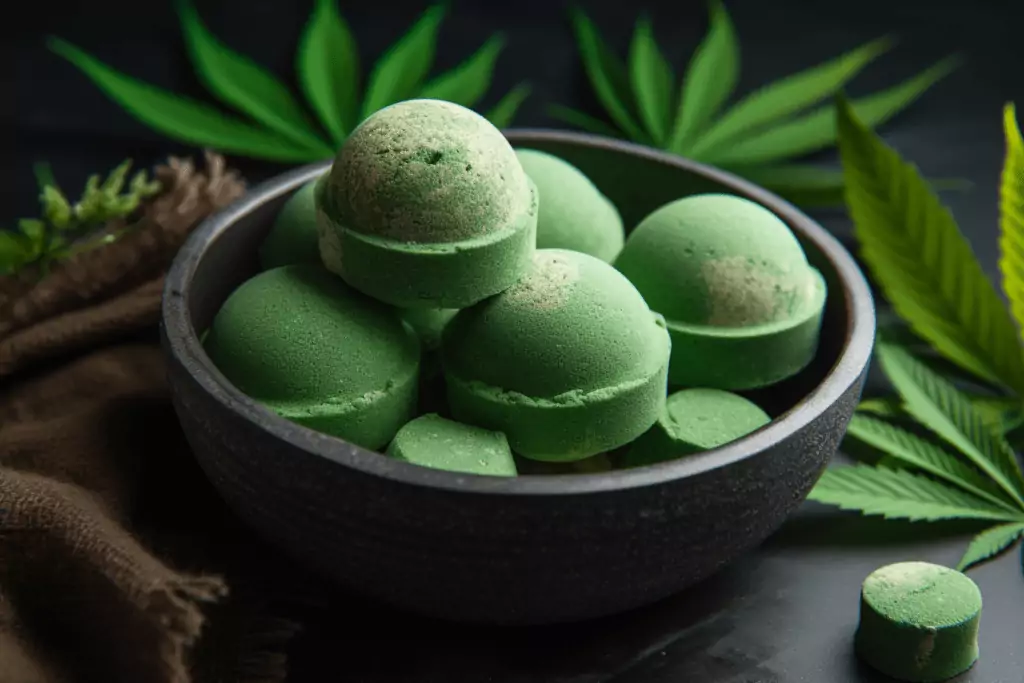 SUPPLIES
Large mixing bowl
A stirring spoon
measuring spoons
Bath bomb molds, cookie cutters, or just hand roll
INGREDIENTS
Three tablespoons of THC/CBD oil
One tablespoon of coconut oil or olive oil
1 cup of baking soda
½ cup of citric acid (or lemon/lime juice)
½ cup of Epsom salt
½ cup of cornstarch
One teaspoon of hot water
30-40 drops of other essential oils
Food dye (optional)
INSTRUCTIONS
Measure out three tablespoons of cannabis oil for this recipe, and then store the remaining oil in the fridge.
Slowly mix the dry ingredients. (Epsom salts or magnesium sulfate, baking soda, cornstarch)
Add the coconut oil and essential oils.
Add water. If the mixture is too dry, you can add more water by ½ teaspoon. The consistency should hold its' shape.
You can add more or less cannabis oil to adjust the potency to fit your needs.
Let your bath bombs dry out for several days before use for the best results.
Top 5 Bath & Shower Cannabis Products
Looking for a holiday gift for an MMJ patient or cannabis enthusiast in your life? Look no further than our top five list of cannabis-infused bath and shower products.
Kush Queen Bath Bombs
Kush Queen is a popular cannabis-infused bath product brand from California. The ingredients for their Relieve bath bomb include organic clove bud, sweet birch, rosemary, black pepper, coriander seed, and essential oils.
Empower Soaking Salts: White Label
Empower offers a minty bath soak from Oregon. It has a fairly extensive ingredient list including Pharmaceutical-grade Epsom, Dead Sea, and Pink Himalayan salts, non-GMO grape seed oil, organic jojoba oil, sweet almond oil, non-GMO mixed tocopherols, CBD derived from hemp, sodium bicarbonate, and a proprietary blend of essential oils that include wintergreen, bergamot, and Oregon lavender.
Sacred Cannabis Epsom Salt Soak
This is a six-ounce jar of salt soak from California. The ingredients include hybrid cannabis, Epsom salt, avocado oil, jojoba oil, vitamin E oil, and peppermint essential oil.
Ganja Chica Tranquil Bath Soak
This is a mineral salt soak that is available in California. The ingredients list contains ground cannabis, Himalayan Pink salt, eucalyptus and spearmint Epsom salts, and Reiki energy.
Cannabis Basics Eucalyptus Mineral Bath
This is a four-ounce package that is available in Washington state. The ingredients contain cannabis, eucalyptus, hempseed oil, and Epsom salt.
FAQs Weed Bath Bombs
Here, we'll answer some of the most popular questions regarding THC and CBD bath bombs.
Will cannabis bath bombs get you high?
THC bath bombs won't get you high, but you are sure to reap many of the therapeutic benefits of the plant through soaking in a THC bath bomb such as pain and anxiety relief thanks to a powerful tool known as the endocannabinoid system.
Will THC bath bombs show on a drug test?
Because cannabis topicals cannot penetrate the skin, you will not likely fail a drug test for THC since your largest organ (the skin) will not be absorbing cannabinoids. Also, the THC levels in topical products like bath bombs are typically much lower than that of other types of cannabis.
Is it safe to make your own bath bombs?
Yes, for adults it is completely safe. With all "chemistry" projects, it's important to use the proper safety equipment, follow instructions, and pay attention at all times.
Is Indica or Sativa better for infusing bath products?
It doesn't really matter, although we suggest researching potential strains and possibly choosing a hybrid blend that will offer the desired effects and aroma. Some of the best strains and brands to use for infusing bath products include Kush Queen, Thin Mints, Purple Punch, Blue Dream, and Gelato.
Last Updated: April 20, 2023
Get Your Medical Card
Connect with a licensed physician online in minutes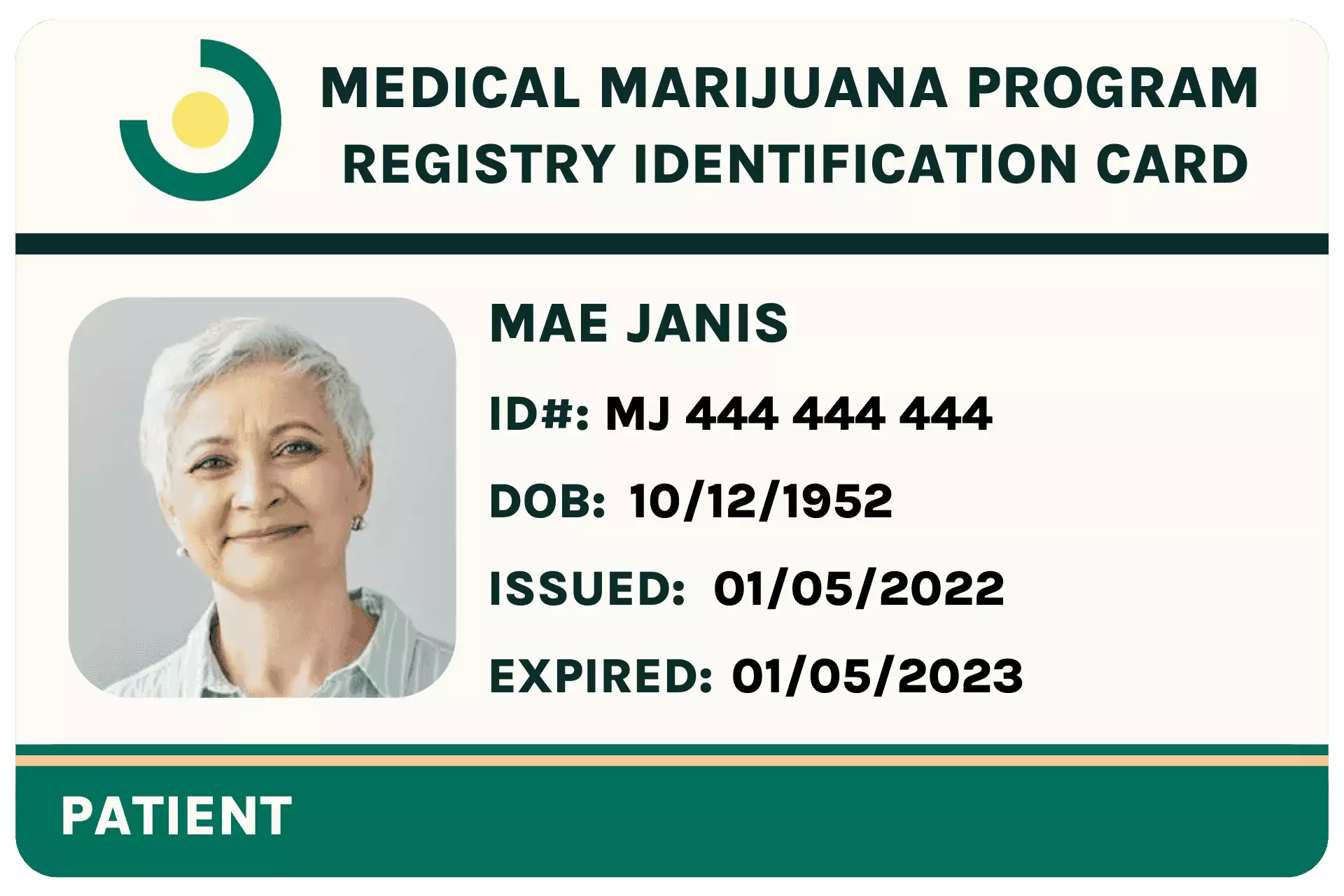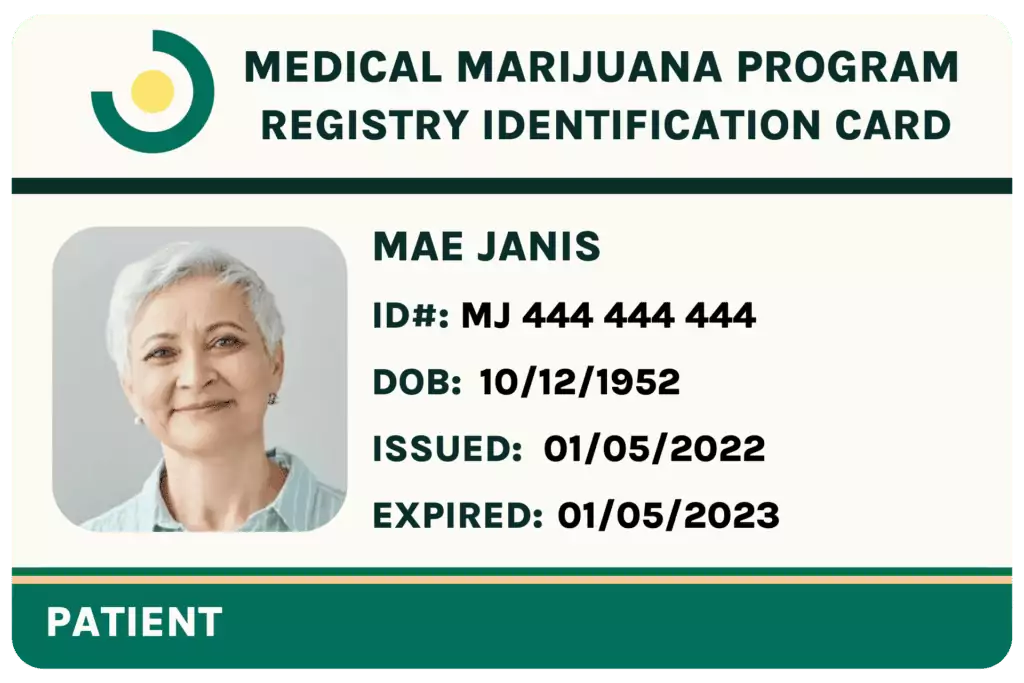 Like This Article?
Share with your friends
Keep Reading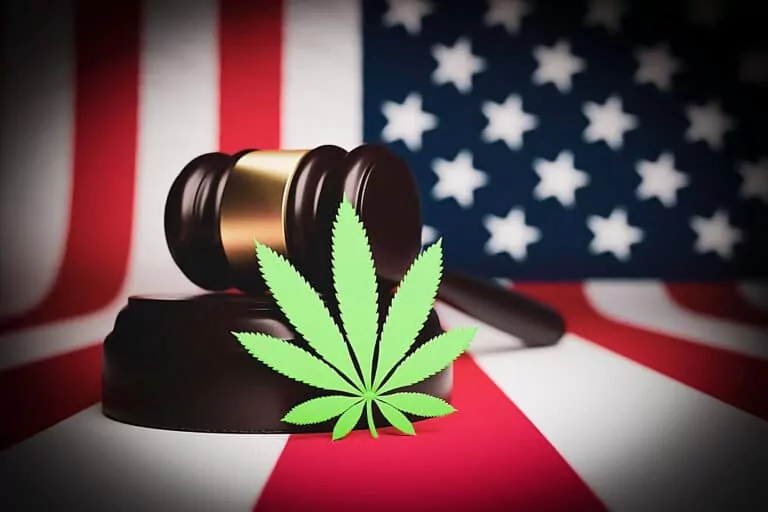 Surprising to many, President Biden announced that he is taking significant steps toward changing federal marijuana laws.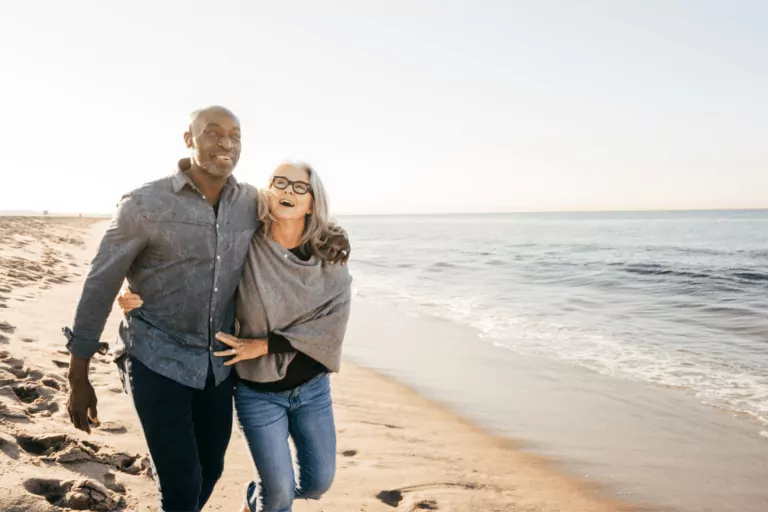 Find out how medical marijuana can help with pain relief in PA. Learn about different strains, dosing, and how to get started.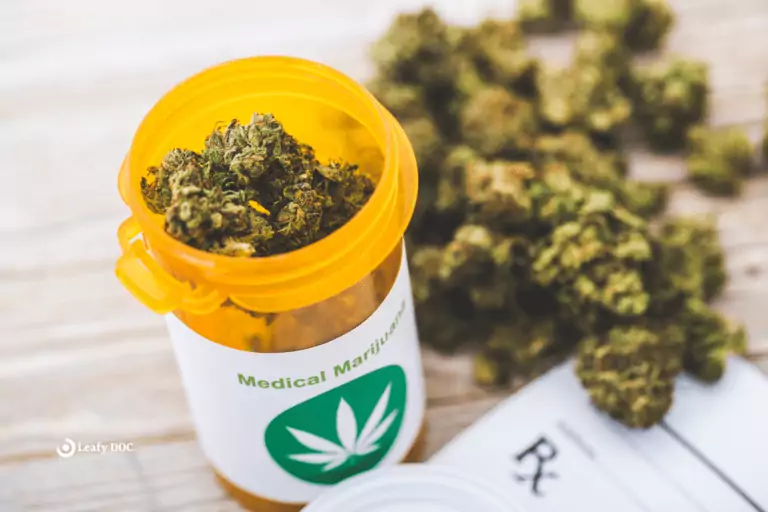 Separate fact from fiction with our guide to the top 5 myths about medical marijuana. Learn the truth about cannabis and its potential benefits and drawbacks.